For a while now, growing corn has no longer been a walk in the park. From the high cost of fertilizers and other inputs to drought and low market prices, it has been difficult.
Agriculture has been mired in so many challenges, it's no wonder that at election time it took center stage.
The Smart Harvest met with a number of North Rift farmers who shared their frustrations and expectations for the next government.
Thomas Bowen, a maize farmer from Kosachei in Uasin Gishu County says the trip was no walk in the park.
Bowen says successive regimes have failed to give agriculture a key sector the attention it deserves to ensure the country's food security.
As the country is about to inaugurate a new government, Bowen says he hopes the new government will make a difference in the lives of farmers.
"I ventured into growing corn 30 years ago, starting with an acre," Bowen explains.
"Although I have expanded to around 40 acres – mostly through leasing – I have to admit it has been a rough ride with poor earnings, high input costs and operating costs."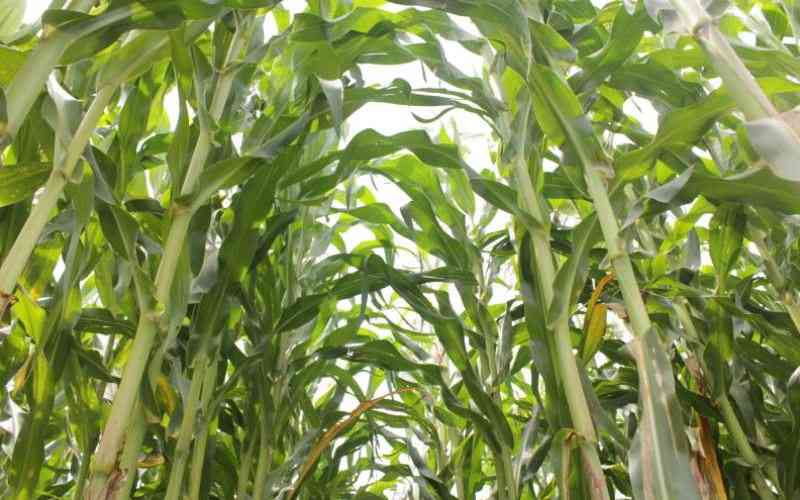 He notes that successive regimes have made mouth-watering promises only to leave farmers at the mercy of exploitative businessmen.
"It was only under the late President Mwai Kibaki that farmers witnessed the implementation of good policies that enabled us to access affordable inputs through subsidies.
Prices have been good since the state stabilized them through the purchase of Strategic Food Reserves (SFRs) stored in National Cereals and Produce Board (NCPB) stores," he says.
Bowen says grain farmers were most frustrated during the 10 years of the Jubilee administration, where county and national government officials advocated diversification into avocado, macadamia and other crops horticulture instead of tackling the problems of the maize sub-sector.
corn skipped
"Senior agricultural officials and leaders often tell us to diversify into avocados and now all efforts have been directed towards that at the expense of growing maize. With the focus now on such high value crops, maize has been ignored," he adds.
Bowen hopes that whoever takes power will restore hope to farmers and reorganize agriculture.
According to Bowen, during the first 100 days, the new leader should prioritize key issues such as the high cost of fertilizers, which could lead to lower yields at harvest.
He notes that the country is a signatory to numerous treaties, including the Maputo Protocol of 2003 which requires the allocation of 10% of the annual budget to agriculture.
Jackson Kwambai, another maize farmer from Uasin Gishu, wants a complete overhaul of the sector.
"We have overcome challenges year after year. The government has failed to avail itself of an effective subsidy scheme," says Kwambai.
"The e-voucher that was introduced by the Jubilee administration has not benefited the farmers, who are still rural and unfamiliar with electronic check-in."
Populist vs Practical
Although the teams of Raila Odinga and William Ruto made various promises to farmers during the election campaign, Kwambai expects little from these "political promises", saying successive regimes have promised a lot and done little.
He notes that many of the promises made were more populist than practical.
"The corn subsidy was just a political gesture that had no value. It was more about protecting consumers from the high cost of flour while forgetting about the producers who work hard on the farms and struggle with the high cost of inputs. »
In his manifesto, Ruto identified agriculture, micro-small and medium enterprises (MSMEs), housing and habitat, healthcare, a digital highway, the creative economy, the environment and climate change. and the service economy as priority areas.
"The expectations of Kenyans are huge and we don't have the luxury of wasting time. We must respect our commitment. We will roll up our sleeves, tighten our belts and roll up our socks and deliver services to Kenyans," Dr Ruto said.
Kenya Kwanza plans to invest 250 billion shillings in agriculture between 2023 and 2027 to provide affordable and adequate working capital to farmers, risk management systems through guaranteed minimum return (GMR) insurance, helping the poor population to produce food, increase crop productivity per area and milk volumes per cow, reduce dependence on imports and boost the tea sector, among others.
The high cost of inputs has had a negative impact on production, with many farmers saying their yields will be significantly affected.
Kwambai expects to achieve only 40% yields in the current season because he reduced the application of fertilizer because it was expensive and of inferior quality.
"The government has failed to protect farmers from substandard inputs. I'm getting into horticulture and the fertilizer I use no longer guarantees better yields," explains the farmer.
Samuel Yego, who served as director of agriculture in the administration of former Uasin Gishu Governor Jackson Mandago, says there is hope for agriculture.
"The national government still holds 85% of resources for agriculture, which should be fully decentralized.
"The counties only received 15%, so the resources that remained in the central government are sufficient to fund the programs outlined in the manifesto," Yego says.
Yego stressed that with the resources, programs will be put in place to facilitate the production of food and end dependence on imports.
"Uasin Gishu alone produced 4.5 million bags of maize last season, and we expect similar production this year. There is a need to empower the entire food chain and improve strategic food reserves to reduce shortages, as seen this year," he said.
Samuel Rono, an agricultural expert, said the sector's challenges will be fully resolved once programs are put in place to reduce production costs, support farmer organizations, groups, cooperative societies and industries to added value.
"Most of our products are still sold raw and cartels have taken advantage of vulnerable farmers.
"The government can invest in cold rooms to facilitate the storage of perishable goods and process them into finished products to fetch better prices," Rono said.
He says that under the GMR initiative, the government can empower farmers by increasing the cost of produce outlets to raise farm gate prices. This, he says, will protect both producers and consumers from unnecessary exploitation.
Want to get the latest farming tips and videos?
Join us
Share this article on social networks